Pak Shaheen Group
What Services Pak Shaheen Group Offer
Since its inception in 1981, the Pak Shaheen Group has attained a vanguard position as Pakistan's leading integrated multi-service business conglomerate. Successors to H. Bird & Company, U.K., the Group can trace its origins as ship agent from Karachi a little after Pakistan's independence (1947). The successive years saw the Group sail on a successful voyage through sheer dint of hard work and dedicated efforts.

In a journey that has spanned over 70 years; the Group finds a nationwide presence with locations at Karachi, Lahore, Faisalabad, Rawalpindi, Islamabad, Sialkot and Multan. As a dynamic Group and charged with the vision to always move ahead, we strongly believe in maintaining a high level of discipline, consistency, quality and technological advancement. Our vision entails looking at new emerging trends in international maritime operations and all related services with a very specific focus – to render the fruits of breakthrough technology to a wider spectrum of clients.

As a Group, our operations are through Karachi Port, Port Bin Qasim, Lahore Dry Port, Faisalabad Dry Port and every sea port and airport in Pakistan. Thus, our area of operations touches every mode of transportation with every kind of haulage. Be it air, sea or land, we find a dynamic presence in the country's maritime operations and related activities.
As a Group we lay vital importance to human resources. Professional Directors combine their business vision and acumen with the strength of an able and dynamic team of a skilled and experienced workforce. A brief summary of the Group Companies is given below:
Explore our suite of services: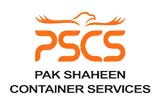 Pak Shaheen Container Services (PSCS)
Pak Shaheen Container Services (PVT) Ltd. continues to lead the container shipping industry in Pakistan. The company was the first to usher in a new phase of modern and efficient containerization in the ports history of the country. As such it enjoys a very pioneering status.

The Company understands that it has to match its efforts with positive resultant action. For this, fully integrated services of Container Terminals Freight Stations (CFS) are put to extensive use. Such usage also places the Company in a unique position of advantage. It is the largest common user of C.F.S. and I.C.D. at Karachi Port, Port Qasim and the Dry Ports at Lahore and Faisalabad. The company believes in running its entire gamut of business operations at a very modern level. This is one reason why only state-of-the art light and heavy container handling equipment are used. Besides, Toploaders, Forklift Trucks, Trailers, and Chassis form an integrated part of smooth operations to ensure a high degree of efficiency.

The tariffs are also kept economical keeping clients interest in mid for providing them container transfers and haulage services. Pak Shaheen Container Services also offer a wide range of services in warehousing, stuffing and devanning containers and multimodal and combined transport of containers quay side and house-to-house. The wealth of our experience stems from the caliber of our expertise based on stability in the shipping sector. We have had a single-minded focus on promoting and pioneering containerization. This is one reason Karachi Port and Pakistan Customs have granted us permission to establish complete off-Dock Bonded Depots and CFS at Karachi and Port Qasim.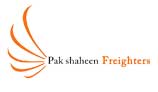 Pak Shaheen Freighters (PSF)
Improving air freight standards in the country has been the sole objective of Pak Shaheen Freighters (Pvt) Limited. The Company has laid down stringent quality standards in the level of service it offers to clientele. With such high standards, it is natural that the company be accredited to both IATA and FIATA. Since a nationwide presence is crucial to the business, Pak Shaheen Freighters has offices located strategically at Karachi, Faisalabad, Lahore, Rawalpindi and Islamabad. Efficient and trained staff ensure that up-country shippers and exporters get an excellent level of service that matches the most discerning needs in air freight and consolidation services.

The Company is fully equipped to offer services for all kinds of cargoes be it special cargoes, dangerous goods or perishables, with special L.C.L. traffic representing Seacon Antwerp. The Company's excellent track record of growth is testimony to a sound business approach being followed. The growth rate at all company locations nationwide continues to grow at a steady pace. As Pakistan's exports are poised to register a sharp increase, Pak Shaheen Freighters is ready to meet the challenge in air freight and consolidation services.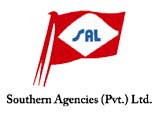 Southern Agencies (SAL)
For two decades, Southern Agencies (Pvt) Limited has been operating as Liner and Ship Agents. The Company represented Compagnie Maritime D'Affretement (CMA), of CMA-CGM global group of France, one of the world's largest and fourth largest in Europe for more than three decades.. Currently the company has acquired the Agency of Samudera Shipping Lines, a Singapore based Shipping Line.

An excellent track record, professional management, streamlined operations, strategic locations and combined strengths of delivering quality service have created a management, streamlined operations, strategic locations and combined strengths of delivering quality service have created a solid reputation for the Company in international shipping and commercial circles.The Company operates through a network of offices located at Karachi, Lahore, Faisalabad, Sialkot and Multan.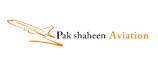 Pak Shaheen Aviation (PSAv)
Pak Shaheen Aviation (Pvt.) Limited is an associate of the Pak Shaheen Group of Companies, which operates an array of transport and communication services.

The Pak Shaheen Aviation, a travel agency, was established in 1989 and received IATA recognition in 1992 (License No. 27-3 0091 0). The Universal Federation of Travel Agents association certified it and since then it has garnished various awards for the services rendered, including:

• Lufthansa services award 1992.
• Awarded PSA of Qatar Airways for North of Pakistan from 1998 to 1999, as afterward Qatar Airways started its' own operations to Pakistan and opened its' own offices.
• Rated amongst the top seven travel agents by Kuwait Airways in 2001
• ISO 9002 certified.
• Partners of three world renown state-of-the-art GDSs i.e. Abacus, Amadeus and Galileo.

Currently the Agency is providing Hotel Bookings, Visa processing, Tour Package and E- ticketing facilities for national carriers i.e. PIA, Shaheen Air Int., Air Blue, Serene Air on their domestic and international routes, in addition to all international airlines operating ex Pakistan and Dubai, through three GDSs.

Pak Shaheen Aviation also caters to the travel needs not only of the Pak Shaheen Group of companies, since its inception, but also providing e-ticketing facilities to a number of reputed multinational companies, in Pakistan.

The agency aims at to provide competitive services, even to individual clients, similar to all the corporate and valued clients with the same favor and distinguishable emphasis on providing qualitative services at all times.
Pak Shaheen Agencies (PSAg)
Working as an independent organization, the Company is geared to cater to the diverse needs and requirements of various demanding clients and also to provide General Sales Agency Services to Foreign Carriers and Principals and as well as Joint Venture Projects. Being the sole agents of KALMAR in Pakistan, the Company has a well-entrenched, modern and efficient infrastructure to meet a diverse range of equipment requirements. Pak Shaheen Agencies represent a number of international firms, dealing in manufacture and supply of container handling equipment with guaranteed supply of timely spares and dedicated marketing in the Middle East and South Asia regions.

Throughout its operational phase, the Company ensures that clients get the best in terms of quality of service, faster turnaround and high efficiency levels. This facet is reflected through the Company's deployment of a wide array of state-of-the art equipment to handle a multitude of services.

A full-fledged team of hard working professionals work round-the-clock with the highest sense of dedication to deliver quality standards as demanded and expected by our clientele. Considering the potential of the future, Pak Shaheen Agencies, is continually engaged in efforts to raise the standards of service and efficiency in the industry. The Company has offices located at Karachi, Lahore, Rawalpindi, Islamabad, Faisalabad, Sialkot and Multan.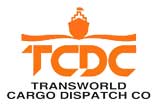 Transworld Cargo Despatch Company (TCDC)
Stevedoring or docking operations all over the world has gained a special prominence. The level of standards demands the best in terms of skilled manpower and modern equipment. It's also a question of getting the maximum in terms of time and output related to distance and operational scale of each and every assignment handled. Transworld Cargo Dispatch Company (Pvt) Limited operates with offices at Karachi Port and Port Bin Qasim.

The Company has already earned a reputation for quick dispatch of cargo. It performs loading and unloading of containers, stuffing, and stripping from the vessels (ex-hooks) operations. Besides, it is also engaged in break bulk cargoes for lines and ship owners. The Company has the distinction of handling one-third of the entire wheat imports into Pakistan which is indeed an impressive achievement.The Company is actively engaged in On-Dock Terminal operations at East Wharf and West Wharf, Karachi Port, Port Qasim and Dry Ports at Lahore, Faisalabad, Multan and Sialkot.

The Company's large customer base includes national and international shipping companies. The Ministry of Food and Agriculture, Government of Pakistan, is also one of our prime customers.
Multimodal Transport International (MTI)
The concept of intermodal transportation of containers and goods is already an established one globally. In Pakistan, this form of transportation is very much in vogue. MTI (Pvt) Limited is the first land transportation company in the private sector to operate as a joint venture between the Pak Shaheen Group and Gulftainer.

The Company is licensed by Pakistan Customs for transportation of containers and goods for import and export shipments, operating from Karachi to Dry Ports at Faisalabad, Lahore, Sialkot and Rawalpindi. The Company provides total services on door- to-door basis assuring customers of proper handling and safe movement of goods.

A modern tracking and communication system ensures that customers get the best level of service. As the volume of trade and business grows and as imports rise, MTI will continue to provide the best in intermodal transportation nationwide, covering haulage by growing network of roads and motorways.